Hifi Made in Hungary: NCS Audio
Last weekend, I visited a special audio event in Budapest. Two local companies demonstrated their products built into a single audio system. The music was played from TIDAL using an audio PC and DAC made by Bodor Audio and a pair of speakers by NCS Audio.
If you read one of my earlier blogs, you know that I listen to a pair of Heed Enigma 5 speakers. It was a love at first sight during my university years. These speakers are omnidirectional which means that they have beautiful spatial sound. And best of all, they sound 3D not just in a single sweet spot, but almost everywhere in the room.
However, as I later learned the hard way and verified in a number of good discussions, omnidirectional speakers are, unfortunately, not omnivorous. They can amplify recording problems and some music sound a bit strange on them, like percussion music. That said, as they are just perfect for most of the music I listen to, I definitely do not want to replace my current speakers, especially because not even speakers costing an order of magnitude more can provide this level of spatial sound. But I keep my ears open if I can find speakers I can use when omnidirectional does not work for one reason or another.
All components of my current system were made in Hungary. This is also a reason why I was happy to learn about this audio event: most parts of the system we listened to was also made in Hungary. I am perfectly satisfied with my current audio sources, so my focus was on the speakers at the event, as apparent from my mini-review below.
NCS Audio Reference One Mk3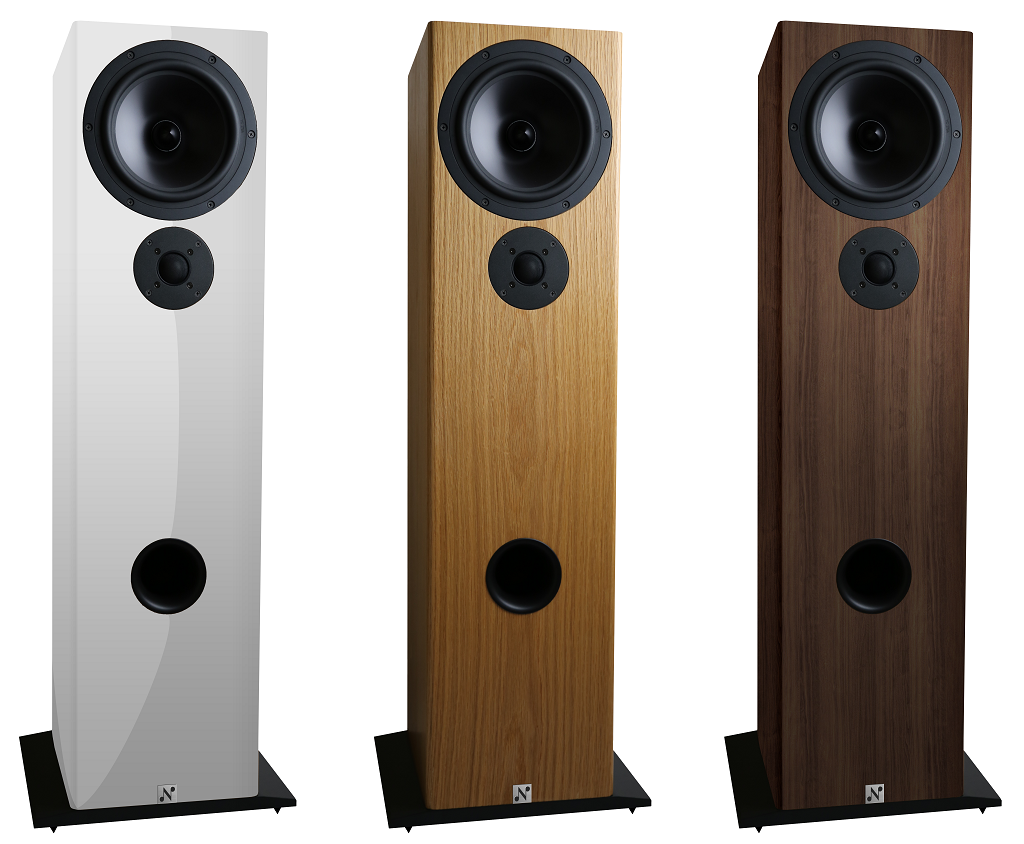 I must admit that I do not know much about the technical details of HiFi. I am a lot more interested in what I hear. So in this blog, I only write about what I heard at the event, but nothing about the technical parameters of the speakers. You can find those on the Reference One Mk3 product page at https://www.ncsaudio.eu/reference-one/.
As you could guess from my current pair of speakers, spatial sound is important to me. From the speakers I listened to in the past decades, only omnidirectional speakers provided me the kind of 3D sound I like. And the Reference One is no exception: not even in the perfect listening spot could it provide the level of spatial sound as omnidirectional speakers. However, the Reference One was a lot closer to the sound I like than most other traditional speakers I listened to.
When I listened to the first songs on the Reference One, I had the feeling that there is too much bass and that is why I cannot hear the acoustic guitar playing. Yes, I know, hearing the expression "too much bass" sounds strange from me, but it rather means "not enough middle" in this case. However, when I listened to the same song back at home, it turned out that I was only partially right. It was not a problem with the speaker but with the recording. Whenever the deep bass voice of the singer appeared, the sound engineers lowered the volume for everything else. I did not have a chance to listen to Apocalyptica or Pink Floyd at the event, but I bet they also sound nice. :-)
I mentioned that percussion music sounds a bit strange on my speakers. My guess is that the brain expects drums & and other short sharp noises to be directional, but it's not what it gets with omnidirectional speakers. This is why I was especially curious how they sound on the Reference One speakers. There were a couple of percussion-heavy songs during the event and they sounded perfectly. The opening of Copland's Fanfare for the Common Man sounded just unbelievably good.
We listened to many different kinds of music at the event. The Reference One was a true omnivore, no matter the genre: jazz, rock, classical or experimental, everything sounded well on these speakers. So, will I get a Reference One any time soon? Let's just put it this way: not yet. I really love how it sounds, no questions about that. However, these speakers are way too large for my current music room, and can easily fill rooms three or four times bigger than mine. Also, my guess is that unlike me, my neighbors would probably not appreciate the level of bass the Reference One can provide. ;-)