I'm an IBM Power Champion for 2022
I'm happy to announce that I became an IBM Power Champion for the year 2022. This blog is long overdue, however with the conflict raging in our neighbor country, Ukraine, I just did not feel the strength to write about anything. In this blog I try to introduce myself and share my plans for this year. But before doing so, let me share my new badge with you: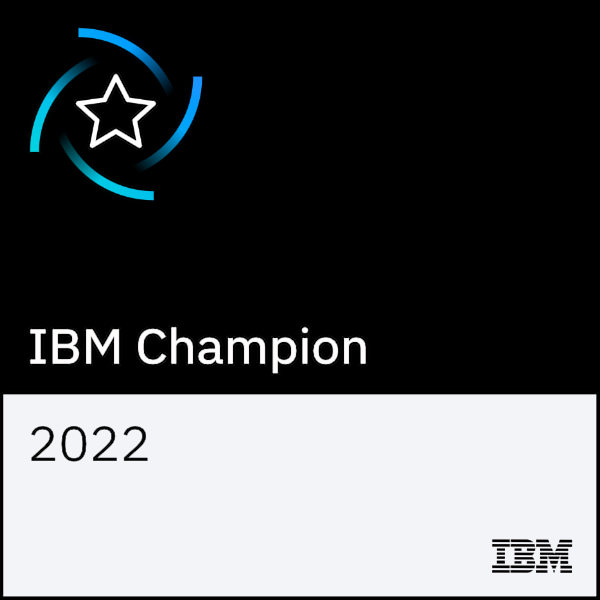 My background
My title at work is "Open Source Evangelist" and Power does not appear anywhere in my job description. I do not have a Power system under my desk right now. How could I still become an IBM Power Champion?
The story goes back almost 30 years. That is when I first started using Power, some RS/6000 boxes at Dartmouth College. At that time, I did not know that I was using systems based on POWER processors. I did not even know that open source software exists, but I was most likely already using some. All I was aware, that those were the fastest systems I used up to that point.
A few years later I was introduced to open source software and became a Linux admin as a student job. When I got a trainee position at an IT company, my task was to install open source software on IBM Power servers running AIX. At that time it meant compiling software from source, as pre-built binaries were not yet available. I did so also on the fastest server of Hungary at that time: an IBM Power server larger than an average fridge.
Soon I started to work at Genesi, supporting Linux on Pegasos, a PowerPC workstation. I also ported openSUSE and Ubuntu to various PowerPC development systems by Freescale. This was also the time when I became more interested in open source user communities. I became a powerdeveloper.org community contributor and moderator and later I had the same roles on power.org by IBM. In my last year at Genesi I started to give talks about Linux on Power at various events in Hungary and in Europe.
You can read more about my Power experiences at https://opensource.com/article/20/10/power-architecture
I spent the past twelve years as open source evangelist for open source IT security software: syslog-ng and sudo. Officially I do not have anything to do with Power, but in practice I work with Power regularly. I build syslog-ng packages for the platform. I also use Power to test and tune syslog-ng. For many years Power 9 was the fastest platform I had access to to run syslog-ng. I do not have access to Power 10, but I suspect that after a quick break the crown is back to Power. Obviously, the IBM Power E1080 would be an overkill to run syslog-ng :-)
You can read more about being an open source evangelist at https://opensource.com/article/21/1/open-source-evangelist
Being an open source evangelist taught me to share my thoughts loud and clear. I have hundreds of blogs and articles on-line and I have many thousands of posts on social media. Even if my primary focus is syslog-ng and sudo, many people know me as a vocal Power advocate. It's not surprising: if I am interested in something, I use my experiences as open source evangelist to share my thoughts on it. I'm definitely very interested in Power. Within Power my focus is open source, mainly Linux.
My plans
Just like most developers, I prefer to work on a machine under my desk, not on some remote hosts. (See my blog on the topic: https://peter.czanik.hu/posts/saving-power/) I planned to buy a Power 9, either a reduced cost AC922 or a Blackbird from Raptor Computing. However, the unfortunate events in Ukraine made this plan impossible, as our currency lost much of its value.
As someone with an environmental engineer degree I'd be even more happy to have a Power 10 box under my desk to work with. More performance and it is also a lot more power efficient. Of course, with a Power system under my desk I could do a lot more practical work: testing various Linux distributions, providing fixes and/or feedback to developers. But a Power 10 desktop is probably just a dream for now. Nevertheless, advocating Power is still something very important for me. Although not as good as having a system at home, I can access remotely access Power 9 systems at one of the universities providing public access to open source developers, as well as at a friends' place. I plan to write a series of articles covering Power and open source. If all goes well, I'll publish a new article each month here.